The Cast of 'Pam & Tommy' Looks So Much Like Their Real-Life Inspirations, It's Absurd
Have you seen these photos of Lily James and Sebastian Stan?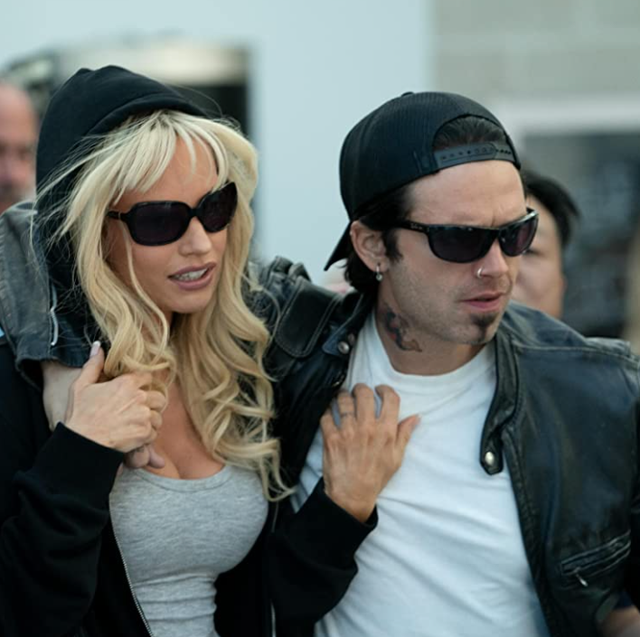 When the first pictures of Hulu's Pam & Tommy hit the internet, people went nuts. Like, actually nuts. Lily James and Sebastian Stan were basically unrecognizable in costume as Pamela Anderson and Tommy Lee, and the casting suddenly made so much sense. (No offense to them, or anything, but they weren't the most obvious choices.) But what about the rest of the cast? What's the deal with them? Allow us to explain.
The show follows Pam and Tommy through their ~whirlwind romance~ and as their personal and private sex tape is made public against their consent. A former disgruntled employee of theirs, a handyman named Rand Gauthier (played by Seth Rogen), broke into their home and stole the couple's safe, and in that safe, there was a sex tape. He decided to sell the tape as an act of revenge.

The narrative is messy, to say the least, but the people put in charge of bringing these characters to life did an incredible job. Here are the actors in costume compared to the people they're portraying.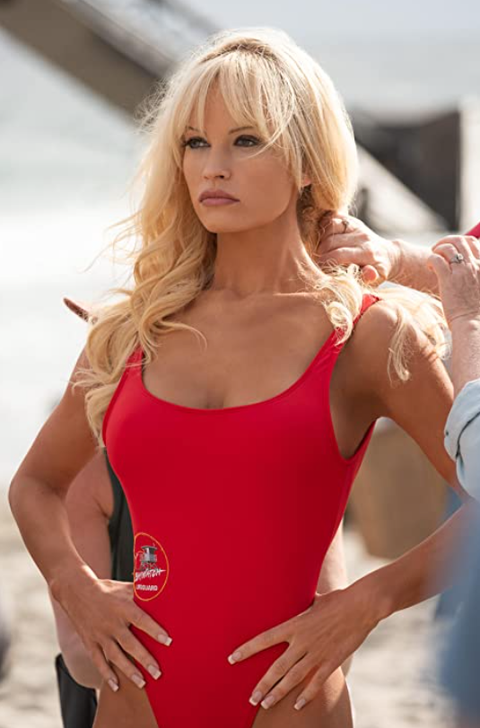 Lily James as Pamela Anderson
You cannot tell me this is the same person who played Cinderella in that one remake with Richard Madden. Just kidding, yes you can, because it's called acting, but isn't the Pam resemblance freaky?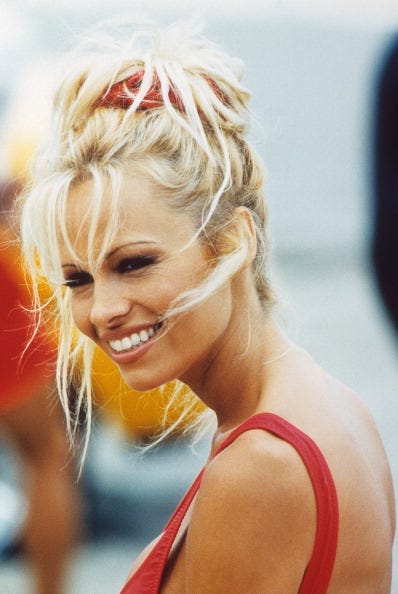 Michael Ochs Archives
Getty Images
Pamela in the '90s
Here's a picture of the real Pamela on the set of Baywatch. Lily's hair and makeup people deserve allll the Emmys, because this is wild.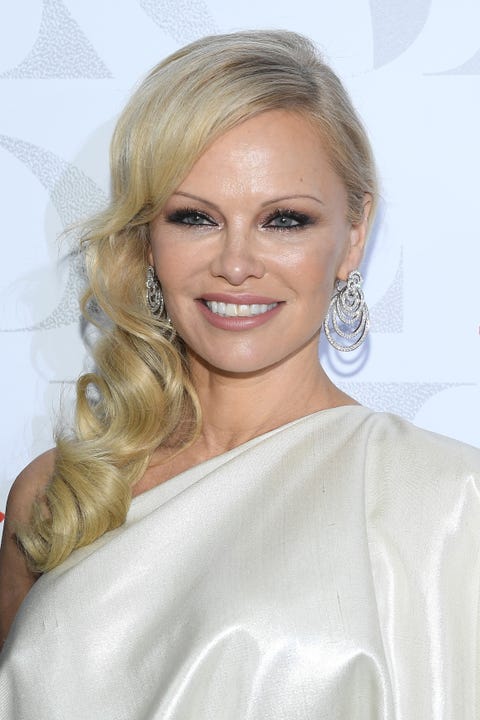 Pascal Le Segretain
Getty Images
Pamela in 2019
And here's a picture of Pamela more recently, just for comparison's sake.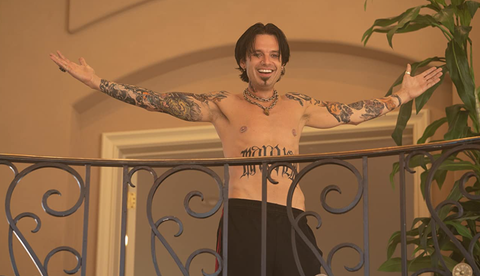 Sebastian Stan as Tommy Lee
Sebastian Stan fully embodies rock's favorite bad boy Tommy Lee in this show. Can you imagine how long it took to put those tattoos on every day? Again, Emmys all around.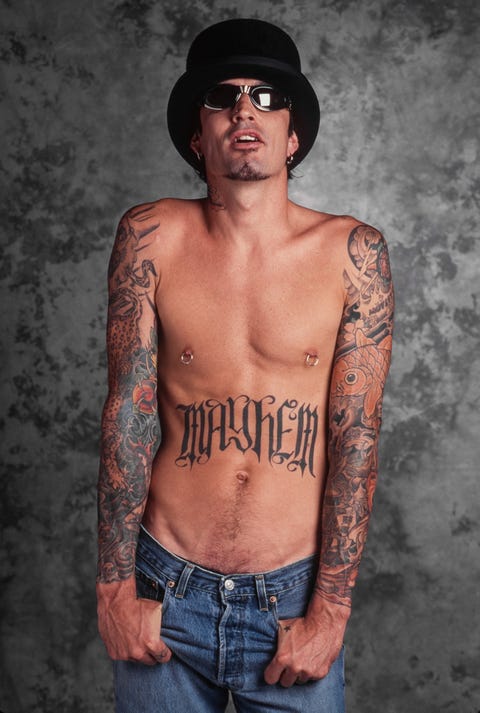 Tommy Lee IRL in the '90s
Again, the accuracy here is wild. The hair! The piercings!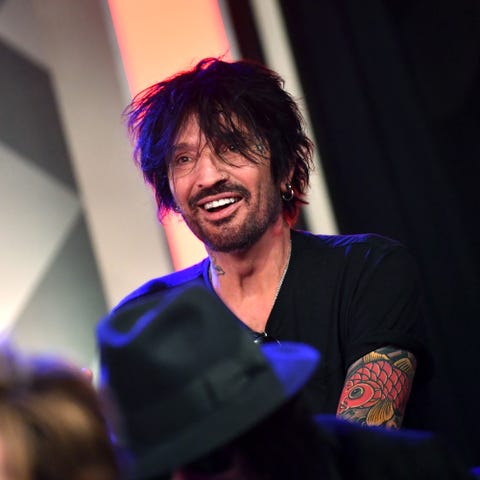 Emma McIntyre
Getty Images
Tommy Lee in 2019
Good to know the facial hair is going strong even now.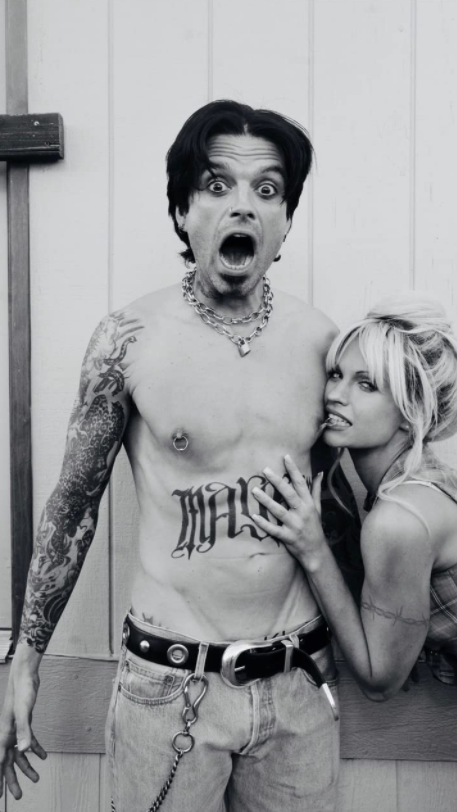 Lily and Sebastian in character
This photo also made the internet basically erupt when Hulu released it, and the cool thing is that it's a direct homage to an earlier photo of the real couple.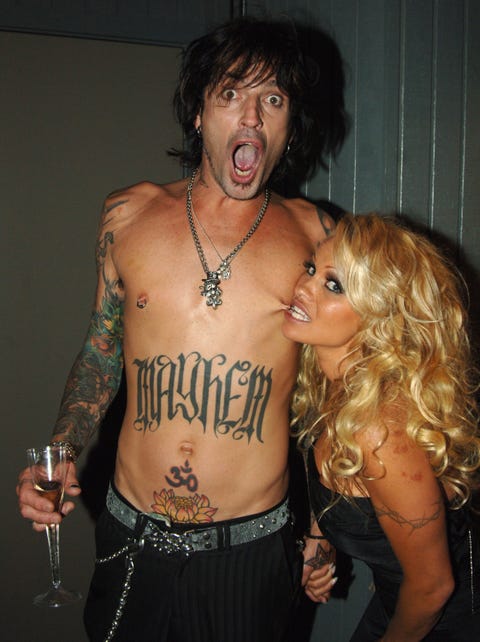 Pam and Tommy IRL
This photo was taken at the after-party for Comedy Central's Roast of Pamela Anderson in 2005. It's uncanny!! Can you believe we used to roast people, like...for fun?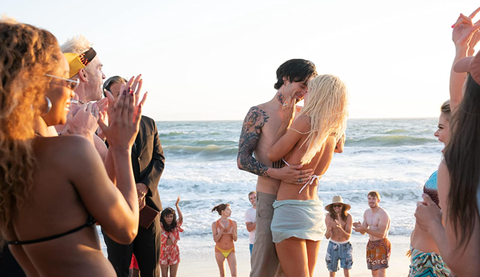 Pam and Tommy's wedding in the show
Pam and Tommy get married really early in the series, on a vacation in Cancún.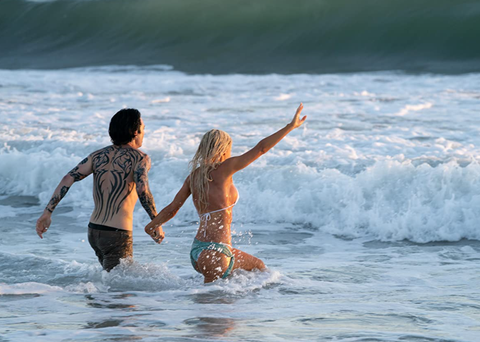 Pam and Tommy's wedding in the show
And their wedding in the show looks super similar to how it looked in real life.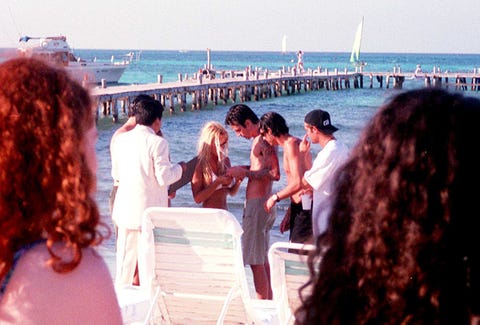 Pam and Tommy's wedding IRL
They really did get married on the beach in Cancún, wearing their best Sunday beach attire. Honestly, this is iconic.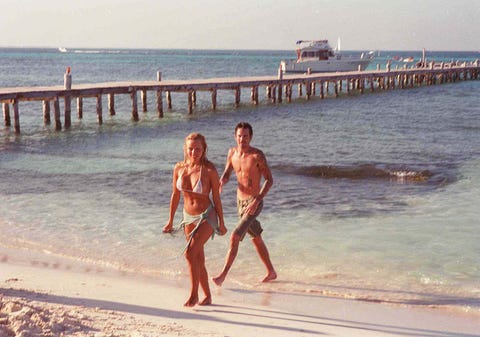 Pam and Tommy's wedding IRL
Even the sarong is the same! The accuracy is *chef's kiss*.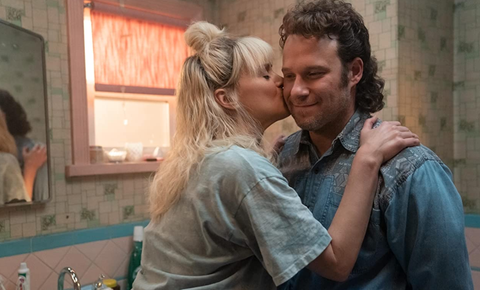 Seth Rogen and Taylor Schilling...
...as Rand Gauthier and his wife, Erica. It's really hard to find pictures of Rand on the internet because he's not, like, a famous person, but there is one photo of him that you can find here. The two of them did perform in adult films together at one point.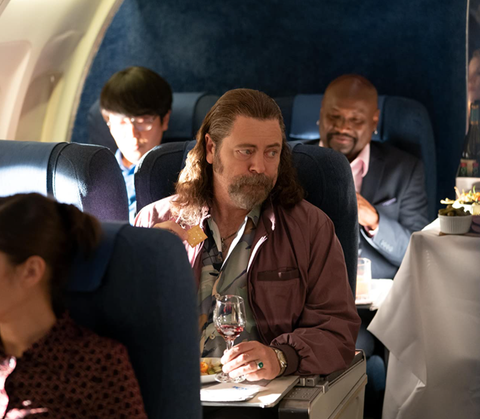 Nick Offerman as Uncle Miltie
Uncle Miltie, who helped Rand distribute the tape and then basically took off with the money, was also a real person. He's pretty hard to find pictures of now, but you can see one here. (He also went by "Michael Morrison" when he was alive, as a stage name for adult films.)
This content is created and maintained by a third party, and imported onto this page to help users provide their email addresses. You may be able to find more information about this and similar content at piano.io